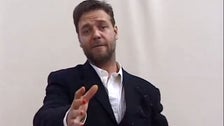 actor Russell Crowe he had a hell of a lot of fun with a joke he once played on the director Ron Howard during the production of "Cinderella".
In the 2004 clip, Crowe brags that he has recovered from shoulder surgery, but as he speaks, blood gushes from his shoulder.
"While training for Cinderella Man I experienced a subluxation of my left shoulder that required surgery," Crowe wrote as he retweeted the video. "I knew Ron Howard and the studio were worried, so I thought I'd post a video to relax them."
Warren Beaton, a special effects artist from the "Lord of the Rings" movies, created the effect for Crowe. He tweeted that she was "the BEST fun morning with special effects EVER!" and compared it to something from a Monty Python skit.
He added in a follow-up tweet:
Crowe said he was "back in the ring" just three weeks later, allegedly bloodless.
"Cinderella Man" is part of the Internet lore in another way: Crowe sold memorabilia, including a jockstrap he wore in the film, during his 2018 "divorce auction. "
That jockstrap was among the items won by "Last Week Tonight" host John Oliver, who donated them for viewing in what was at the time one of the few remaining Blockbuster video stores.
When that one shutdown, Crowe got his jock back … probably: