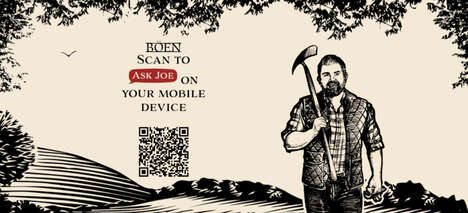 Joe Wagner, the fifth-generation winemaker and owner of Böen Wines, recently announced the launch of the cutting-edge Böen Ask Joe Virtual Wine Assistant. The cloud-based virtual assistance program allows wine lovers from around the world to learn more about wine, answer any question, or even lead the through a one-on-one wine tasting — al through the QR code.
Using Joe's knowledge, humor, and experience, the Ask Joe Virtual Wine Assistant hopes to bring consumers closer to the wine in their glass. With Ask Joe, you can have a two-way conversation with a winemaker and a wine lover.
"Today's modern wine enthusiast is interested in learning about more than just what's printed on the bottle label. We created the Ask Joe Virtual Assistant to provide consumers with an easy opportunity to dive into the behind the scenes of the wine in front of them as well as to share quick tips and facts," says Joe Wagner. "I can't wait for our Böen aficionados, both new and existing, to go through the Ask Joe experience and learn something new."
Fans can access the Ask Joe Virtual Assistant via the QR code on the bottleneck of all Böen 2020 vintage bottles or online at AskJoeWagner.com.
Image Credit: Gusts Wine