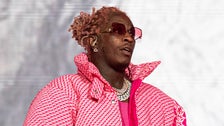 Rapper from Atlanta Young Thug was arrested on Monday as part of a broad grand jury indictment, one of 28 people accused of gang-related crimes and violations of Georgia's criminal racketeering law.
The prosecution claims that Young Thug, whose real name is Jeffery Williams, is one of the founders of the street gang Young Slime Life. Williams, 30, is accused of conspiring to violate Georgia's Racketeer Influenced and Corrupt Organizations, or RICO Act, and participate in gang activities. Another 27 have been charged in the indictment of 56 counts, which also includes the charges of murder and attempted armed robbery.
Williams was arrested Monday in Atlanta's posh Buckhead neighborhood and wrapped up in Fulton County Jail. His allegations connect with the 2013 and 2018 allegations, according to documents obtained by the Atlanta Journal-Constitution.
The rapper's first court appearance is scheduled for Tuesday.
Brian Steel, who identified himself to local media as a lawyer for the rapper, said his client was innocent and promised to "fight to the last drop of blood to clear him."
"Mr. Williams hasn't committed any crime," Steel said WSB TV.
The New York Times Notes Williams' record label has been called by several names, including YSL Records and Young Stoner Life Records. The label calls her artists "Slime Family".
Working as a Young Thug, Williams has risen to fame in recent years and won his first Grammys in 2019 for his work on Childish Gambino's "This is America". He released his latest album, "Punk", in October, performing on "Saturday Night Live" later that month.
Williams was arrested on drug charges in 2017.