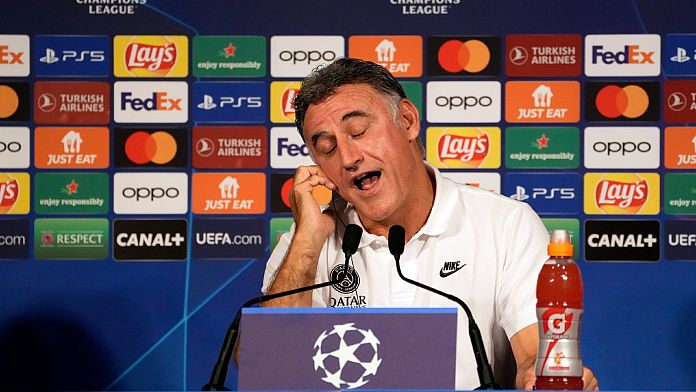 French football star Kylian Mbappé and his Paris Saint Germain manager Christophe Galtier sparked a heated debate in France over their answer to a question about using private jets to travel to matches.
Galtier, when asked about the club's choice to take the plane rather than the train to go to Nantes at the weekend, preferred irony to sensibility.
Nantes is just two hours from the French capital on a high-speed TGV train.
"This morning, we discussed with the company we share our travels with to find out if we couldn't travel on a sand yacht," Galtier replied at a press conference on Monday.
The reporter who asked the question followed up on a tweet from an executive of the state railway company SNCF.
Alain Krakovitch, retweeting a video of PSG players flying to Nantes, said he was renewing the SNCF's offer to help the club travel by train.
French sports minister Amélie Oudéa-Castéra returned fire in a tweet, saying she was used to more responsible responses from Galtier.
Paris Mayor Anne Hidalgo has joined the criticism of Galtier, urging club officials to "wake up" as politicians across the spectrum have called for a more serious approach to the issue.
PSG's Lionel Messi has also been criticized for his use of private air travel, making 52 flights from June to August, according to French activist organization Attac.