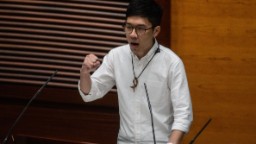 Story highlights
Hong Kong government successfully disqualified 2 pro-democracy lawmakers
Now 4 more are being targeted in court
Hong Kong
CNN
 — 
A political crisis that has dominated Hong Kong politics for months shows no sign of slowing as the government moves to disqualify four more recently-elected lawmakers.
Lawsuits were filed Friday against four pro-democracy legislators, including former Umbrella Movement protest leader Nathan Law, days after a court upheld the barring of two of their colleagues.
Following the move, pro-democracy politicians marched on the office of the city's top official, Chief Executive Leung Chun-ying, bearing banners reading "CY launching a coup, declaring war on voters."
Legal challenge aims to deprive directly elected members of veto power, an insult to the dignity of HK people, says @nathanlawkc pic.twitter.com/FWle7uieTu— Richard Pyne (@richardjpyne) December 2, 2016
Yau Wai-ching and Baggio Leung were barred from taking their seats in the city's parliament after a court ruled that their oaths of office, during which they swore and displayed a banner reading "Hong Kong is not China," were invalid.
The pair told CNN last month that they would continue to fight the ruling in order to "protect our system and the separation of powers and the rule of law."
The ruling against them came after the dramatic intervention of Beijing, which employed a rarely-used power to re-interpret Hong Kong's Constitution and rule that oaths must be taken "sincerely and solemnly."
Photos: New Hong Kong Lawmakers
ANTHONY WALLACE/AFP/Getty Images
Newly elected Hong Kong pro-democracy lawmakers thumbed their noses at Beijing at a swearing-in-ceremony to start the legislative session on Wednesday, October 12. They displayed banners with words reading "Hong Kong is not China."
Photos: New Hong Kong Lawmakers
Kin Cheung/AP
Youngspiration's Yau Wai-ching told the city's Legislative Council: "I do solemnly swear that I will be faithful and bear true allegiance to the Hong Kong nation," after laying out a flag bearing the words "Hong Kong is not China."
Photos: New Hong Kong Lawmakers
Kin Cheung/AP
Nathan Law, the city's youngest lawmaker, quoted Ghandi before making his oath. He also refused to leave the podium demanding that the Legislative Council secretary general, Kenneth Chen, explain his reasons for refusing to accept the oaths of his fellow lawmakers.
Photos: New Hong Kong Lawmakers
ANTHONY WALLACE/AFP/Getty Images
Hong Kong rebel lawmakers shouted, banged drums and railed against "tyranny" on Wednesday when they took their oaths of office, as calls grow for a split from Beijing.
Photos: New Hong Kong Lawmakers
Kin Cheung/AP
A newly elected pro-democracy lawmaker, Fernando Cheung tears an oversized mock copy of controversial, proposed anti-subversion legislation as he takes oath on Wednesday.
Photos: New Hong Kong Lawmakers
ANTHONY WALLACE/AFP/Getty Images
Lawmakers not only displayed flags declaring that Hong Kong is not a part of China but also called out for "democratic self-determination" for the semi-autonomous Chinese city at Wednesday's oath taking session.
Pro-democracy lawmakers have traditionally used the swearing-in ceremony as a venue for protests, though few took it as far as Yau and Leung's curse-laden speeches.
Law quoted Gandhi before making his oath: "You can chain me, you can torture me, you can even destroy this body, but you will never imprison my mind."
Many commentators saw the new requirement for sincerity and solemnity, which does not appear in the mini-constitution, as a means to go after more anti-government lawmakers. Those fears were confirmed this week.
Hong Kong and China: One country, two systems
Law was one of the leaders of the Umbrella Movement, which saw hundreds of thousands of Hong Kongers take to the streets to demand greater political freedom. At 23, he is also the youngest person ever elected to the city's parliament.
Veteran lawmaker "Longhair" Leung Kwok-hung, sociology lecturer and activist Lau Siu-lai and architect Edward Yiu are also targeted.
In a statement, the Justice Department said it has begun legal proceedings "asking the court to declare (the lawmakers') oaths invalid and to leave their posts vacant."
The decision to sue the four lawmakers, all of whom have been consistent critics of government policy, "was driven by legal and law enforcement considerations, without political considerations," the statement said.
Law charged that the move was an "orchestrated attack" by the government "against all democrats and all voters supporting democracy," to take full control of the city's parliament, or LegCo.
While Legco is dominated by pro-government lawmakers due to the city's undemocratic functional constituency system, at present, pro-democracy parties do possess enough seats to block certain laws that require a more than two-thirds majority to pass.