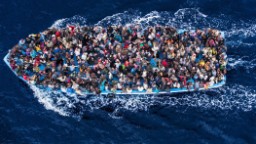 Story highlights
Doctors Without Borders says there are "many deaths" at the scene but cannot confirm how many
As many as 700 migrants are thought to have been on board the fishing boat
It capsized and sank as rescuers arrived at the scene
Rome
CNN
 — 
Rescuers are trying to save hundreds of migrants Wednesday after their fishing boat capsized off the coast of Libya, Cmdr. Filippo Marini of the Italian Coast Guard, which is coordinating the rescue operation, told CNN.
Ireland's Minister for Defence Simon Coveney said an Irish naval vessel is also involved in the rescue of approximately 600 people who were aboard the capsized boat. At least 165 people have been pulled from the water alive, but 17 bodies have also been recovered, he said, warning that the death toll is expected to rise.
"Our thoughts and prayers are with all those who have lost their lives, the survivors and the rescuers for whom this is an extremely difficult operation," Coveney said.
Two vessels operated by the medical aid group Médecins Sans Frontières (Doctors Without Borders) are also assisting near the shipwreck, just 15 miles off the Libyan coast. The medical group confirmed that there are "many" deaths at the scene but could not say how many.
The ships were sent to the scene after a distress call from the fishing boat, Marini said.
The boat crammed with migrants capsized as soon as the Irish vessel arrived, he said, likely because all those on board moved to one side at the same time. Rubber boats were immediately put into the water to save people as the boat went down.
MSF spokeswoman Sibylle Berger gave a different figure for how many people may have been aboard the vessel, saying it could have been as many as 700.
More ships, including Italian navy and coast guard vessels, are heading to the area to help in the rescue effort, Marini said.
The boats are just the latest vessels overflowing with migrants seeking to reach European soil to get into trouble in Mediterranean waters.
More than 2,000 migrants have now died this year as they tried to make the perilous crossing, the International Organization for Migration said in a statement Tuesday.
"As in 2014, the overwhelming majority died in the Channel of Sicily on the Central Mediterranean route connecting Libya and Italy, where unseaworthy vessels used by smugglers and traffickers significantly increase the likelihood of tragedies occurring," the organization said.
At the same time, thanks to international maritime efforts, some 188,000 migrants have been rescued in the Mediterranean so far this year, it said.
Why migrants head to Mediterranean