Berlin –
Ukrainian Ambassador Andriy Melnyk seems to have a split personality. In German TV talk shows he is composed and quiet because he speaks perfect German. He patiently explains why Ukraine deserves more guns and why Germany should put more pressure on Moscow to end its invasion.
However, he is far less diplomatic on Twitter and reacts with anger when he discovers German hypocrisy towards Russia, such as when he received an invitation to a Ukraine solidarity concert at Bellevue Palace, the home of German President Frank-Walter Steinmeier, last Sunday.
"Only Russian soloists perform there, no Ukrainians," he tweeted in capital letters. "In the midst of a war against civilians. This is an affront. Sorry I'm staying away!!"
The Office of the President responded by expressing regret that the Ambassador would not attend. But that didn't calm Melnyk, 46.
"My dear God," he replied, "why is it so difficult for the Federal President to see that we Ukrainians don't have one, as long as Russian bombs are falling on Ukrainian cities and thousands of civilians are being murdered day and night in stomachs for 'great Russian culture'. "
The exchange, Melnyk muses, epitomizes the duality of attitudes some top German officials continue to hold towards Moscow while its troops and missiles bombard Ukraine more than a month after Russian President Vladimir Putin launched his unprovoked war.
While Germany has acted in tandem with the US and its other NATO members to supply arms to Ukraine and largely restrict trade with Russia, Melnyk suggests there is more than a lack of tact and sensitivity when it comes to leaders like Steinmeier leaves.
What remains, he suspects, is a thinly veiled affection for Russia that cannot or will not be overcome.
"The Federal President is not ready to admit his great personal responsibility for the failure of Berlin's Russia policy," he said in an interview. "Even in times of such a war, he wants to build new bridges to Russia. It clearly sends a secret signal to Moscow: when the war is over, we'll still be here. We hold the flag high. We will restore the German-Russian historical ties."
Steinmeier, two-time German foreign minister and longtime confidant of former Chancellor and Nord Stream 2 pipeline manager Gerhard Schröder, has for years been considered one of the architects of Germany's close ties with Russia. After Putin's invasion of Crimea and eastern Ukraine's Donbass region, he brokered a peace deal dubbed the "Steinmeier Formula" between Russia and Ukraine's formerly pro-Moscow government.
For years, Steinmeier could rest assured that his soft stance on Russia had the support of the German political establishment. The mantra "No peace in Europe without Russia" was a dominant guiding principle of Berlin's foreign policy.
Following the line often meant looking the other way at Putin's repression of political opponents and the media, and his support of Syrian President Bashar Assad in bombing his own cities with Russian air support.
It was not until 2020 that then Chancellor Angela Merkel turned the corner and helped Putin critic Alexej Navalny to get medical care in Germany after he was allegedly poisoned by Russian secret service agents.
Marie-Agnes Strack-Zimmermann, a high-profile politician in the ruling FDP, summed up German politics of the past in bitter words.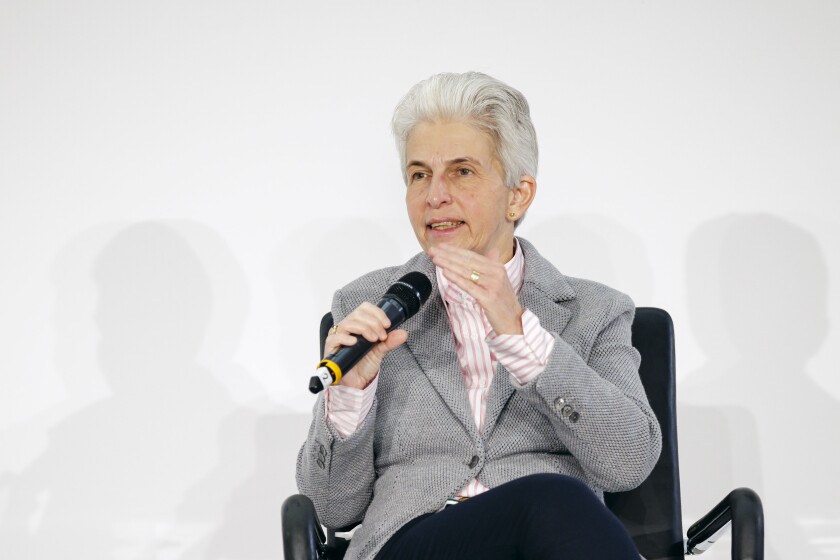 Putin's war is "a very hard awakening for Europe and especially for us," she said in an interview with the German news agency dpa. "I think appeasement, i.e. a policy of constant tolerance towards destructive power politics, has completely failed."
After Putin launched his invasion of Ukraine in late February, Chancellor Olaf Scholz announced that Berlin would finally send arms to Ukraine and prop up its own underfunded military.
Since then, German arms have been slowly trickling in, and on Thursday a Ukrainian delegation led by former world boxing champion Wladimir Klitschko, brother of the mayor of Kyiv, arrived in Berlin to negotiate further supplies.
The strengthening of the Bundeswehr also seems to be progressing slowly. A dispute is brewing behind the scenes over the formulation of a law for €100 billion in spending. Instead of spending the money on the army as originally promised, the government now wants the money to "bolster alliance and defense capabilities" more generally. The ongoing haggling suggests that the pro-Russian political wing, as well as the German peace movement, which makes up influential sections of the ruling Social Democrats and Greens, cannot remain silent.
A recent survey by the Körber Foundation, a non-profit organization based in Hamburg, seems to confirm the mood. Although 67% support German foreign policy, 76% of the public still want more independence from US interests. 14 percent of Germans already consider close ties with Russia to be more important than those with the United States
A cornerstone of Germany's close ties with Russia has been its dependence on Russian energy sources – more than half of the natural gas consumed in Germany comes from Russia.
Now that dependency has turned into a significant disadvantage. As Russia shuts down a new Nord Stream pipeline, it remains dependent on gas supplies from other sources, including the Nord Stream 1 pipeline, which also supplies several other European nations.
In a new twist on the gas issue, Putin threatened to shut off gas supplies to countries deemed "unfriendly" like Germany if they didn't pay in rubles. But on Thursday he said such countries must open special accounts with Gazprombank to pay for Russian gas, and the bank would then buy rubles on behalf of buyers to transfer payments in Russian currency to another special account.
The Ukrainian ambassador is not very optimistic about the future.
"On a societal level, people understand better that this war can affect them. And they are more than willing to help," he said.
Indeed, in the last month, German individuals and private institutions donated several hundred million euros to Ukraine; Volunteers collected food, clothing and medicine, rented buses and drove to the Polish-Ukrainian border to bring refugees to safety in Germany.
"But once the initial shock wore off, politics became lethargic again," Melnyk claims.
The ambassador, probably one of the most unpopular men in Berlin diplomatic circles because of his outspoken manner, wants Germans to look in the mirror.
"Ukraine needs a lot more weapons from Germany, needs to increase economic pressure on Russia and sanctions need to be tightened significantly," he said. "Instead, it seems to me that many in the government still believe that Russia will win this war – and that it doesn't pay to champion Ukraine too much."
In another tweet, he posted a picture of Ukrainian children huddled in a makeshift bomb shelter. The caption read: "Dear Federal Government! This is how millions of Ukrainian children sleep. In basements. Under Russian rocket fire. You can end this horror immediately by banning the import of gas, oil, coal, metals and other raw materials. Good night."
Ziener is a special correspondent.